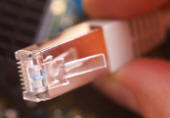 Your computer network
peace of mind begins here.
Whether you have one computer or a large network, it's easy to get overwhelmed - especially when it comes to new technology, security and keeping things running smoothly.
At JLR Consulting, we specialize in designing, building and maintaining reliable, secure computer networks. We offer custom solutions that will meet your specific needs. Help prevent problems. Improve your efficiencies. Reduce costs. Provide training. And, most of all, give you added peace of mind.